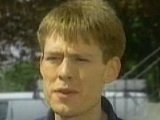 Dale (Gavin Crawford) is the local gas station attendant who is working his way through school. Red Green would chat with him when stopping for gas. Dale seems to take his advice and suggestions with a grain of salt.
Dale only appears in the 1999 season.
Ad blocker interference detected!
Wikia is a free-to-use site that makes money from advertising. We have a modified experience for viewers using ad blockers

Wikia is not accessible if you've made further modifications. Remove the custom ad blocker rule(s) and the page will load as expected.