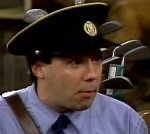 Noel Christmas (Kevin Frank) is chief of
lodge
security and is always seen in uniform. He is a small guy but claims to be skilled in the martial arts. But he has proved to be a total coward when confronted with any real danger. The guys consider him dangerous with a gun, in
The Gun Mishap
he once shot
Murray Woolworth
by mistake. He also goes overboard with security measures in a crisis, which annoys about everyone. In
Job Security
he spent $5000 of lodge money on a faulty security system and lost his job for a time to
Helmut Wintergarden
. He is also unlucky at love, in
Noel's Stag
Noel got engaged to a girl he just met, but called off the wedding when he learned she worked as an exotic dancer.
Noel only appears during the 1992 season, although he is mentioned and his uniform is seen during the 1993 episode "Possum Lake Regatta".
Ad blocker interference detected!
Wikia is a free-to-use site that makes money from advertising. We have a modified experience for viewers using ad blockers

Wikia is not accessible if you've made further modifications. Remove the custom ad blocker rule(s) and the page will load as expected.